Some North State community colleges adopt new strategies to attract more students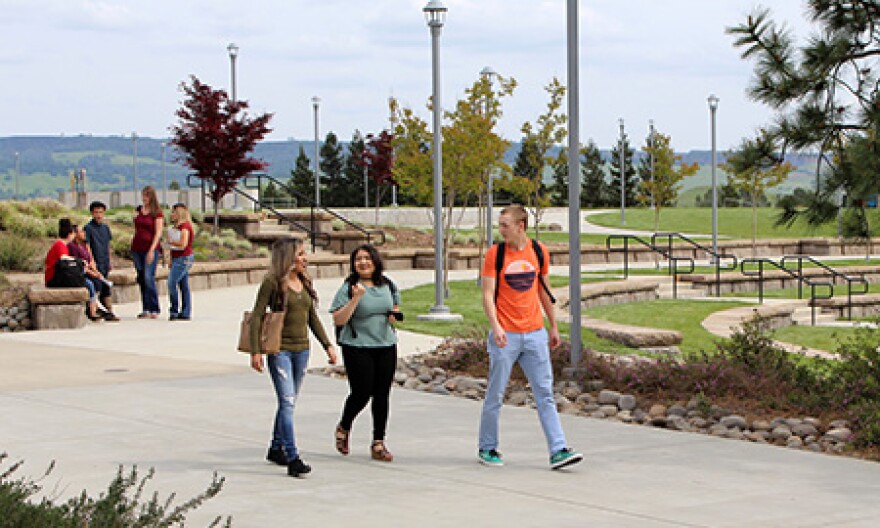 Read the transcript
ANDRE BYIK, ANCHOR:
Community colleges across the state have seen continually dropping enrollment since 2020. NSPR's Alec Stutson reports on what some colleges in the North State are doing to attract students.
ALEC STUTSON, REPORTER:
Only 17 of California's 116 community colleges have seen increased enrollment since fall of 2020. That's according to a data analysis by the nonprofit news outlet CalMatters. Enrollment numbers fell even further in 2021. Tim Johnston is the associate vice president of student services at Shasta College. He says their student enrollment numbers are starting to level out.
(SOUNDBITE OF TIM JOHNSTON) "So what we're finding is that our student counts are definitely starting to rebound compared to pre-pandemic, even though we're still trailing pre-pandemic numbers, but that our students are tending to take fewer classes overall."
Johnston says the stresses of the COVID-19 pandemic, and general economic hardships have contributed to the decrease in student enrollment. He says the majority of Shasta College students qualify for federal Pell grants, and that the college works with students to help them get financial aid.
Other schools, like Butte College, have had to use creative strategies to attract students.
(SOUNDBITE OF CHRISTIAN GUTIERREZ) "You name it, we've tried it. We've done Instagram ads. We've done TikTok. We've done Reddit."
That's Christian Gutierrez, public relations officer for Butte College.
(SOUNDBITE OF CHRISTIAN GUTIERREZ) "So, really meeting students where they're at not just physically, like at high schools, but also where they're at digitally."
On top of digital advertising, Gutierrez says the college also gave out more in scholarships this year than any year before. He says this year's enrollment was similar to last's, with a slight uptick. Gutierrez says holding steady is a win for the college, considering many other schools are still seeing enrollments drop.
For NSPR News, I'm Alec Stutson.