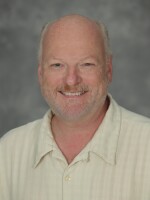 Bruce Grelle
Host, Evening Jazz
Bruce Grelle teaches in the Department of Comparative Religion and Humanities at CSU, Chico. He's been hosting Evening Jazz every other Tuesday since 2012.
He grew up in Indianapolis amidst his Dad's extensive record collection of traditional country music, bluegrass, and western swing. He eventually began a collection of his own including classical music from all eras, rock and blues ranging from Dylan and CSN&Y to King Crimson and Roxy Music to Bruce Cockburn, Eric Clapton, Charley Patton, and Buddy Guy, as well as traditional country and bluegrass (Hank Williams, Vince Gill, the Stanley Brothers, Jimmy Martin et al.).
The first jazz albums he can remember buying as a high school student were Miles Davis's In a Silent Way, the Cannonball Adderley Quintet and Orchestra's Experience in E, Larry Coryell's Lady Coryell, and The Best of Ornette Coleman on the Atlantic Records label.
Attendance at live performances over the years by McCoy Tyner, Dave Liebman, John McLaughlin, Frank Zappa, Oregon, The Paul Winter Consort, Pat Metheny, Ronald Shannon Jackson, John Cage, Olivier Messiaen, Chuck Berry, Jethro Tull, Neal Young, Robbie Basho, Johnny Cash, Bill Monroe, Ricky Skaggs, and George Jones are among his most enjoyable musical memories. He's also a regular attendee at concerts by Chico State's Jazz X-Press orchestra, conducted by Prof. Rocky Winslow, in the Harlan Adams Theater on the Chico State campus.