Up The Road: Eastern Sierra Tour: Summits and Passes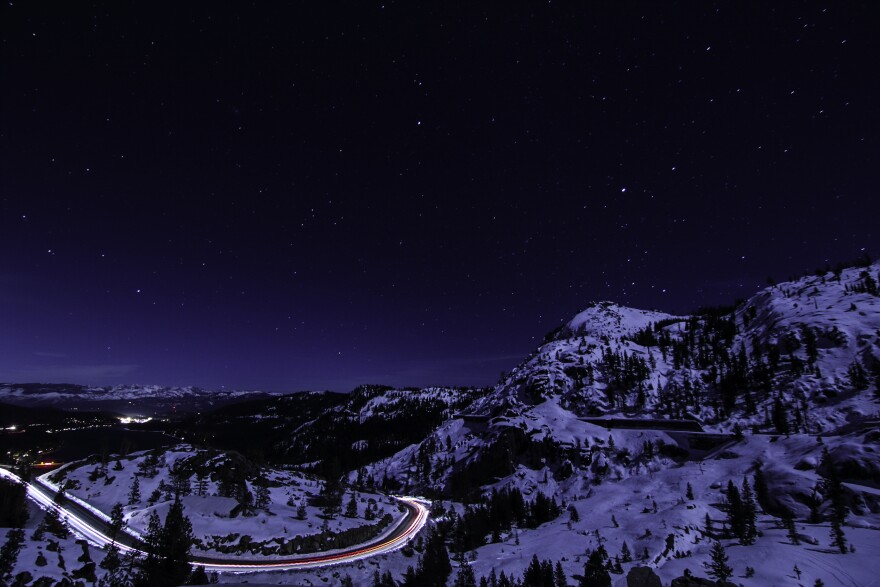 The Great California Road Trip rolls on, this week heading toward the Sierra Nevada's spectacular east side.
But first—weather permitting, and assuming your vehicle can survive adventure—we'll explore the few High Sierra spots where people managed to make trails, then roads, to cross these mountains. Elsewhere, the forbidding granite said: "Nope."
Most famous, just northwest of Tahoe, is Donner Pass, named for the Donner-Reed Party, half of whom survived a brutal snowbound winter by eating mice, twigs, and the frozen bodies of fellow travelers. Donner Memorial State Park trails, campground, and excellent visitor center mark the horrifying spot today. As at other parks, access to museum exhibits is limited now, due to COVID-19 concerns.
Many people have passed through Donner Pass over the ages, including ancestors of the Washoe people, who left sacred art trailside, in the form of petroglyphs. That trail became part of the immigrants' California Trail, and, not long after that, the preferred route over the Sierras for the First Transcontinental Railroad. Multi-lane I-80, which gracefully summits these mountains today, follows the historic Lincoln Highway (later Highway 40)—the first national Lincoln memorial and first coast-to-coast roadway.
From Tahoe proper, jog due south into the rock-hard heart of true wildness. Highway 50 veers west toward Placerville and Sacramento, a major mountain thoroughfare that shoots past pretty little Echo Lake and up and over Echo Summit for some fine high-mountain scenery.
Off in the other direction, from just south of Meyers, Hwy. 89 leads into big-sky country, including both the Mokelumne and Carson-Iceberg Wilderness Areas.
From Picketts Junction—which marks the old Pony Express route—head west on Hwy. 88 to reach Carson Pass and its gorgeous granite high lakes.
South of Markleeville—famous for its annual Death Ride: Tour of the California Alps, every cyclist's fantasy feat—Hwy. 4 also cuts west, this time over Ebbetts Pass and the Pacific Grade Summit. Both hug the Ebbetts Pass National Scenic Byway, one of just seven in California. This steep road—closed by snow in winter—gets exciting. Barely one lane in places, blind corners, hairpin turns. So, go slow. No big vehicles, no trailers.
Southeast from the Hwy. 4 junction, Hwy. 89 heads up and over Monitor Pass and down to US Route 395, the road to the rest of our Eastern Sierra Tour.
But for a final passing thrill, head west from 395 via Hwy. 108, past the Marines' Mountain Warfare Training Center and then up and over incredible Sonora Pass—steep and winding, like Ebbetts, also stunningly scenic, also closed in winter.
The old Sonora & Mono Toll Road has been a state highway since 1901, but this stomach-churning, switchback slither over Sonora Pass is as memorable as ever. Don't try this lonely, stringlike stretch of Hwy. 108 in an RV, or pulling a trailer. Don't hesitate, otherwise—especially if you're cycling. It's beautiful, and literally breathtaking, a film location for 1943's For Whom the Bell Tolls. Stop near the top for a picnic.
Up the Road Encourages Responsible, Safe Travel
Here are previous Up the Road episodes that explore why we should travel, how to do it responsibly, and how to travel responsibly now, in the shadow of COVID-19. Not everyone should be traveling now, of course, depending on your potential vulnerability to the deadliest effects of this new virus. But everyone who does travel needs to do so responsibly, to prevent viral spread. Have a listen: