Man kills his 3 children, their chaperone and himself in Sacramento church shooting
Updated March 1, 9:01 a.m.
A man shot and killed his three daughters, all under the age of 15, one other person, and then himself at a Sacramento church in Arden-Arcade Monday evening, authorities said. All five were pronounced dead at the scene.
Sheriff's Office spokesperson Sgt. Rod Grassmann said in an interview with KCRA that the office received a call at 5:07 p.m. from a worker who heard shots upstairs at the church, known as the Church in Sacramento.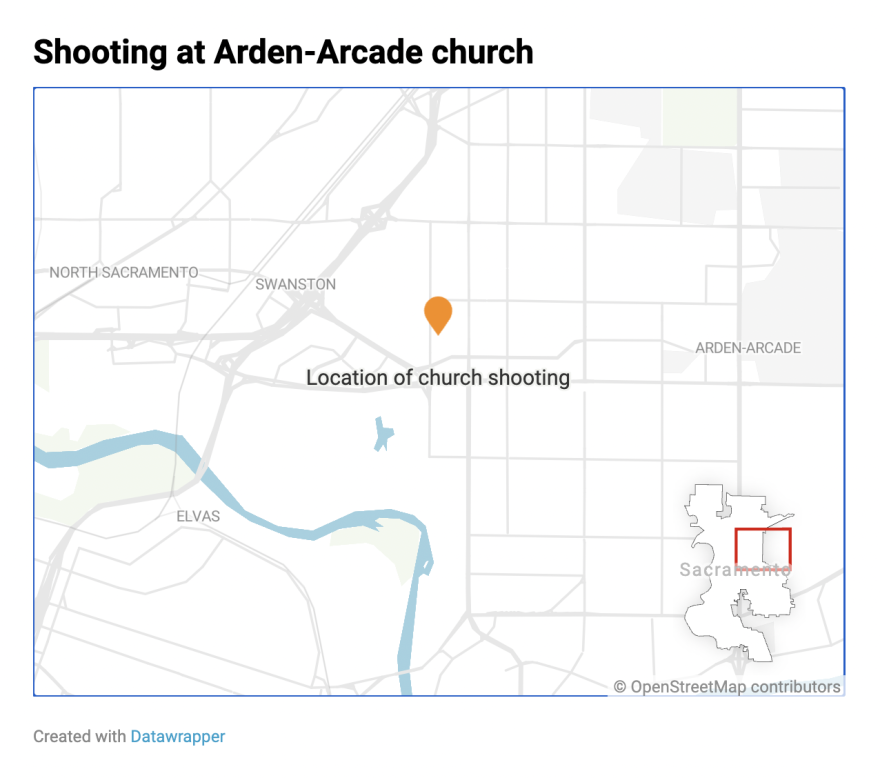 "They heard a shot and then more shots, left the building and then called us," he said.
Sacramento County Sheriff Scott Jones said at a press conference the shooting took place during a supervised visit: the children's mother — currently out of town, now on her way to the scene — had an active restraining order against their father, who was at the church to see his children. The girls were 9, 10 and 13 years old, according to the Associated Press.
Jones said the other victim was the person supervising the visit.
"It's very upsetting," he said. "I would just encourage any person that's in a volatile relationship, you can't fully comprehend what someone is capable of, but if you're in danger, then get out and get some help, and talk to someone you trust."
Jones said that while there are no outstanding suspects, it is still "very early in the investigation."
On Tuesday morning, it was announced that the three children were Natomas Unified School District students.
"There will be a range of emotions from our students and staff, particularly at the schools where the students attended — Bannon Creek and Leroy Greene Academy," the district wrote in a statement. "We will have our Social-Emotional Support Team and Chaplains from the Sacramento Police Department available at those two schools this morning to provide grief counseling and support."
The support teams will also be available to community members and family.
"For today and the next few days, let's focus on taking care of each other. If we learn there is more we can do, we will share," the district wrote.
Connor Madsen, 21, was at his brother's house at Ethan Way across from the church when he heard the initial police response.
Madsen said he initially thought it was a hostage situation, and when he heard the details of the shooting, he was just "kinda shocked."
"We just had a kid," he said. "It sucks. You just took some young kids' lives that had the rest of their life to live, and now they can't."
In a tweet, California Gov. Gavin Newsom wrote "Our hearts go out to the victims, their families and their communities" and said his office was currently working closely with law enforcement.
"Another senseless act of gun violence in America - this time in our backyard. In a church with kids inside," Newsom tweeted. "Absolutely devastating."
Monday evening the sheriff's office said the investigation was ongoing, and asked residents to continue to avoid the area.
This is a developing story and will be updated.
Scott Rodd and Nick Miller contributed reporting.
If you or someone you know needs support around domestic violence, here are some local resources in the Sacramento area:
My Sister's House serves Asian and Pacific Islander and other underserved women and children impacted by domestic violence. They have a 24-hour multilingual hotline: 916-428-3271
WEAVE, Inc. supports survivors of domestic violence. Their 24/7 crisis support line: 916-920-2952
La Familia Counseling Center offers multilingual mental health crisis support. Their emergency after-hours number: 916-227-2600