Up The Road: Where To Now? Monterey Bay
We've been getting ready for crowds of people again, now that the COVID tide is turning—maybe even traveling for the purpose of being with people. We started with Santa Barbara and vicinity. Another good choice, for easing back into "people travel," is Monterey Bay, though today we'll barely introduce its enduring mysterious appeal.
The first mystery is the bay itself, almost 60 miles long and 13 miles wide—with offshore canyons far deeper than Arizona's Grand Canyon, its grandeur hidden. A second mystery is how cities as different as Santa Cruz, Monterey, and Carmel could all thrive here.
In the north, once working-class Santa Cruz is now a tourist town with a gracefully aging beach Boardwalk—the West Coast's answer to Atlantic City. Plus surfers, good swimming, and a unique University of California campus sequestered up in the redwoods. The town's casual blend of social conscience and sleaze is an attraction itself, but one almost priced out by the arrival of Silicon Valley society.
The monied Monterey Peninsula anchors the south bay. Carmel, with its storybook cottages and spectacular crescent beach, crankily guards its quaintness. But the cachet was created by artists, writers, and other assorted bohemians—the likes of Upton Sinclair, Sinclair Lewis, Robinson Jeffers, and Jack London—who had been shaken up and out of San Francisco by the 1906 earthquake. The poet Robinson Jeffers built his own house here, out of stone. Don't miss a tour of his Tor House.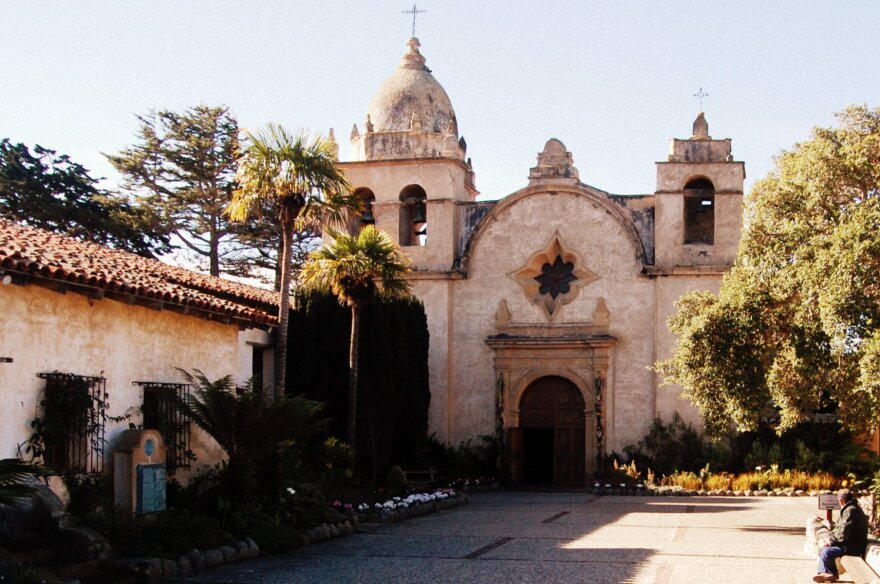 Or the Carmel mission, California's second and Father Serra's favorite—why he is buried at the foot of the altar. The romantic Baroque stone church, one of the state's most graceful buildings, with a four-bell Moorish tower, arched roof, and star-shaped central window, was completed in 1797.
Colonial Monterey was California's first capital, and boasts its first government building, first federal court, first newspaper, and first theater—buildings included in Monterey State Historic Park. Cannery Row, during its sardine-canning heyday, John Steinbeck described as "a poem, a stink, a grating noise, a quality of light, a tune, a habit, a nostalgia, a dream." The Row's exceptional Monterey Bay Aquarium is the dream now—one that puts the entire bay on display.
Next door to the aquarium is Pacific Grove, a charming Victorian village that began as a prim, proper tent city founded by Methodists who, Robert Louis Stevenson observed, "come to enjoy a life of teetotalism, religion, and flirtation." The first Chautauqua in the western states was held here, bringing "moral attractions" to deprived Californians. Which meant: No boozing, waltzing, zither playing, or reading newspapers on Sunday. Alcohol has been legal only since 1969.
Just inland from the Monterey Peninsula is the Salinas Valley, boyhood stomping grounds of John Steinbeck. Steinbeck's focus on Depression-era farm workers unleashed great local wrath here in farm country—sins almost forgiven after he won the Nobel Prize for Literature. But after such vilification, Steinbeck never came home again. Get the story at the National Steinbeck Center downtown on Main Street, when it's open again, and lunch at his family home.
Up the Road Encourages Responsible, Safe Travel
Here are previous Up the Road episodes that explore why we should travel, how to do it responsibly, and how to travel responsibly now, in the shadow of COVID-19. Not everyone should be traveling now, of course. But everyone who does travel needs to do so responsibly, to prevent viral spread. Take a listen: